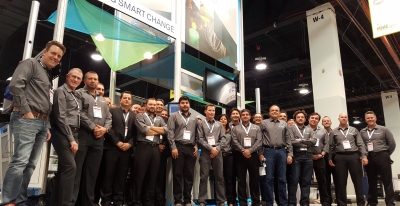 Hexagon Mining unveils latest technology at MINExpo
Wednesday, September 28th, 2016
Solutions to shape the digital mine on display at 'Olympics of mining shows'
Hexagon Mining unveils the latest advances in its integrated technology at MINExpo in Las Vegas. President Hélio Samora and his team are on hand to welcome attendees to Hexagon Mining's Booth 4133.
"For our industry, MINExpo is the Olympics," said Samora of the quadrennial event. "We're excited to display our latest solutions, which are helping to make mines safer and more productive."
In a special ceremony on Tuesday, the company will celebrate the sale of its 25,000th Collision Avoidance System (CAS) by honoring a long-time CAS customer. Also Tuesday, Product Manager, Melanie Bolduc, will present Dynamic Unfolding: Complex geology case study of Tenke-Fungurume.
Here's a glance at the new solutions on display:
Operations
A new look for mine traffic control within Mineops will be unveiled, including an integrated GIS mine map
The flagship high-precision drill solution, Drill HP, will demonstrate new hardness profiling capabilities for rotary and hammer drills, plus start-of-hole detection for compatible drills and market-leading navigational intelligence
The latest advances in monitoring solutions will be on show, including Leica MultiStations. By incorporating laser scanning into total stations, Leica MultiStations push surveying and monitoring to a new realm of possibilities. Complementing the monitoring component will be the company's unmanned aircraft systems. UAS are improving both surveying and safety for mine personnel, plus filling in data gaps from hard-to-reach places
Attendees interested in underground surveying can see Leica high-definition laser scanners (HDS) and MultiStations. These solutions deliver the most accurate and comprehensive data for design versus as-built inspection, volumetric analysis, geological mapping and geotechnical analysis
Planning
Available to demo will be GeoLogic, a new product that leverages the power of MineSight Implicit Modeler by sequencing surfaces and solids to create an air-tight geological model
Safety
The industry's first Vehicle Intervention System plus the latest advances to FatigueMonitor will be on show
Also on display will be a full suite of monitoring solutions to keep underground and surface mines continuously safe and operational. From GPS and Total Station Prism Systems (TPS) and HDS to Georadar and UAS, attendees can learn how Hexagon Mining monitoring technology identifies hazardous events in time to take preventative measures and how mine plans are optimized with this critical information
(Ref 854a)
http://www.hexagonmining.com