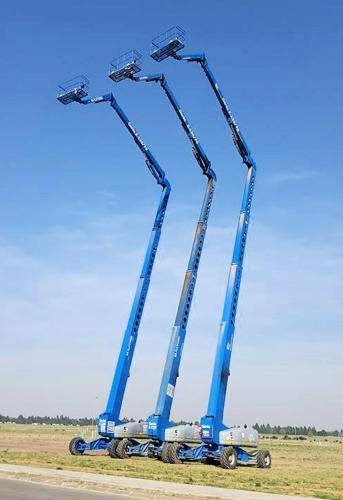 Establishment of SA Platforms (Zambia) Ltd.
Thursday, October 11th, 2018
Whether for routine inspections, cleaning or maintenance tasks, working at heights is a common and sometimes non-avoidable requirement in operations within the mining, metals smelting and mineral processing industries. With falls from heights and falling objects being the leading cause of fatal injuries on worksites in many parts of the world; safety has to centre stage in all working at working at heights tasks, followed by efficiency and cost effectiveness. Cherry pickers are rapidly replacing traditional access systems such as ladders, scaffolding, bosun's chairs and rope swings, which are time-consuming, expensive and often dangerous to use.
Dickinson Group of Companies is pleased to announce the establishment of its latest joint venture with SA Platforms (Pty) Ltd. The two South African Headquartered companies have joined forces to establish SA Platforms (Zambia) Ltd; a Zambian registered company that will extend the range of SA Platforms' cherry picker products and services through Dickinson Group of Companies' well established marketing platform in Zambia and DRC. With mining, metals smelting, mineral processing forming the primary target market. This development is part of the Group's strategy that seeks to intentionally review alternative industries and complementary product and service offerings.
Dickinson Group of Companies was founded in 1910 and has been trading for more than 100 years, having grown to be a Leading Provider of Furnace and Industrial Services to the Mining, Metals Smelting, Mineral Processing, Petrochemical Refining and Thermal Power Generation industries. The company is headquartered in Vereeniging, South Africa, has offices in Zambia, Egypt and People's Republic of China and a technical agency network covering Zimbabwe, Kenya, Ethiopia, Angola, DRC, and Kenya.
SA Platforms (Pty) Ltd was established in 2013 as a company that seeks to be the supplier of choice in Cherry Picker (Lifting Machine) sales, rentals and training. The company's mission is to make clients' work safe, effective and efficient. To that effect SA Platforms (Pty) Ltd helps clients enhance workplace productivity. The company extensively sells and rents out a variety of Cherry Pickers (Lifting Platforms) to suit various client needs.
https://www.dgrpint.com/