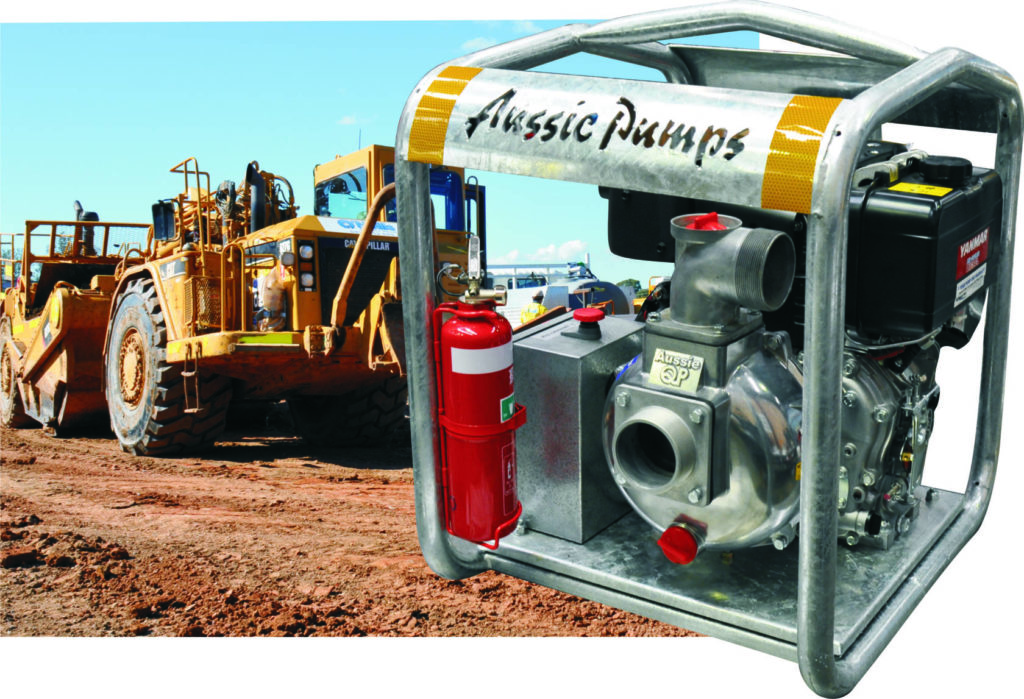 Aussie Fire Pump goes Mining
Thursday, November 8th, 2018
Last month there was a story circulating about a big Cat dozer that caught fire on a mine site in South Africa.  Fires can be catastrophic and can shut the complete site down.
Aussie Pumps, major manufacturers of high pressure fire fighting pumps have developed a "Mine Boss" version of their popular diesel drive fire pumps.  The "Mr T" twin impeller high pressure pump will deliver heads of up to 90 metres (140 psi).
The pumps will prime from 7.6 metres (vertical lift) and produce flows of up to 500 lpm.  As part of Aussie Pumps 'Quik Prime' pump range, the Mr T is claimed to be the best light weight portable high pressure fire pump in the world.
Powered by Yanmar L100 10hp, electric start air cooled diesel engine, the pump is built into a 38mm hot dipped galvanised frame with centre mounted lifting bar.
"We've seen what happens to light weight pumps and other equipment on construction and mining sites when they're picked up by an excavator and trundled over to the new location and dropped", said Aussie Pumps' Product Manager, Brad Farrugia. "Conventional commercial frames get bent out of shape fast.  Our Mine Boss frames are built like a Cat D10", he said.
The pumps are fitted with e-stop and battery isolation as standard.  Bunded trays and trolley mounts are also available as an option.  "We even supply fire extinguishers as part of the kit!" said Farrugia.
Fire pumps can be teamed with a Rapid poly tank on a fast attack vehicle or, coupled to a larger tanker, depending on site and application.
Aussie Pumps believe every mine should have a portable mine spec fire pump on hand, big pumps take time to mobilise.  The Aussie pumps are compact, relatively light weight and highly efficient.
The Aussie Mine Boss range of pumps is a purely Australian initiative.  The pumps are built at Australian Pump's 2 ½ acre site at Castle Hill in Sydney and are now operating not just in Australia but on mine sites in Africa, South-East Asia and through the South Pacific.
http://www.aussiepumps.com.au