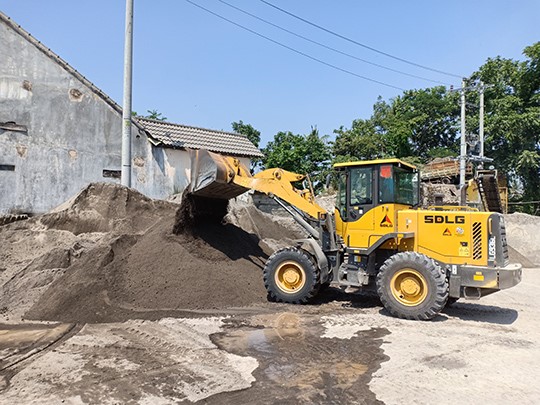 Robust SDLG LG936L enhances operations at Indonesian stone crushing plant
Tuesday, June 11th, 2019
Two SDLG LG936L wheel loaders are delivering efficient and reliable performance at a plant in Cangkringan, Yogyakarta.
Since 2017, two SDLG LG936L wheel loaders have been hard at work moving materials at a stone crushing plant in Yogyakarta, Indonesia. PT Amerta Giri Lestari selected the two loaders for their reliability and ease of operation, which are vital in an area with challenging weather.
"One of the biggest challenges of working at this plant is the unpredictable weather conditions and the material's location, which are high and difficult to reach," said Aris Muranto, site manager at PT Amerta Giri Lestari's stone crushing plant in Yogyakarta. "Thanks to the robustness of the SDLG wheel loaders, which have a dumping height of 2,950 mm, they have greatly enhanced operations and helped us with cost savings due to its fuel efficiency."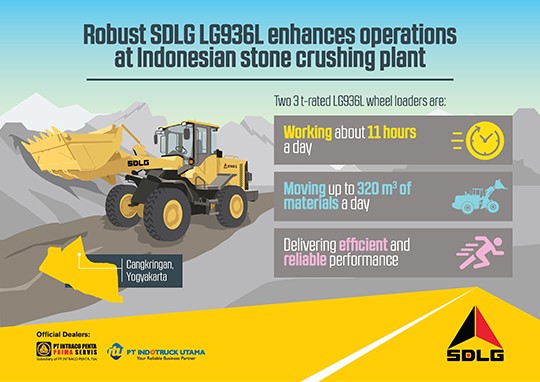 The LG936L wheel loaders work an average of 11 hours daily, moving up to 320 m3 of aggregates and stone ashes per day. As SDLG's top-selling wheel loader for several years, the 3 t-rated LG936L has a maximum breakout force of 96 kN and is widely-used on farms, timber plants, town construction and other small projects. It has a bucket capacity of 1.8 m3, a maximum dumping height of 2,950 mm and a maximum dumping distance of 1,050 mm. The access panels on the machine's rear swing outwards to make daily checks and maintenance much easier.
PT Amerta Giri Lestari, a Yogyakarta-based quarry and stone crusher company purchased the two SDLG LG939L wheel loaders from PT Indotruck Utama, SDLG's distribution partner in Indonesia.
"We have a very good working relationship with PT Indotruck Utama and are very pleased with their aftermarket service support," Aris said. "We will continue to use SDLG wheel loaders as they are very cost-effective and serve as a reliable solution for our heavy load needs."
http://www.sdlg.com/