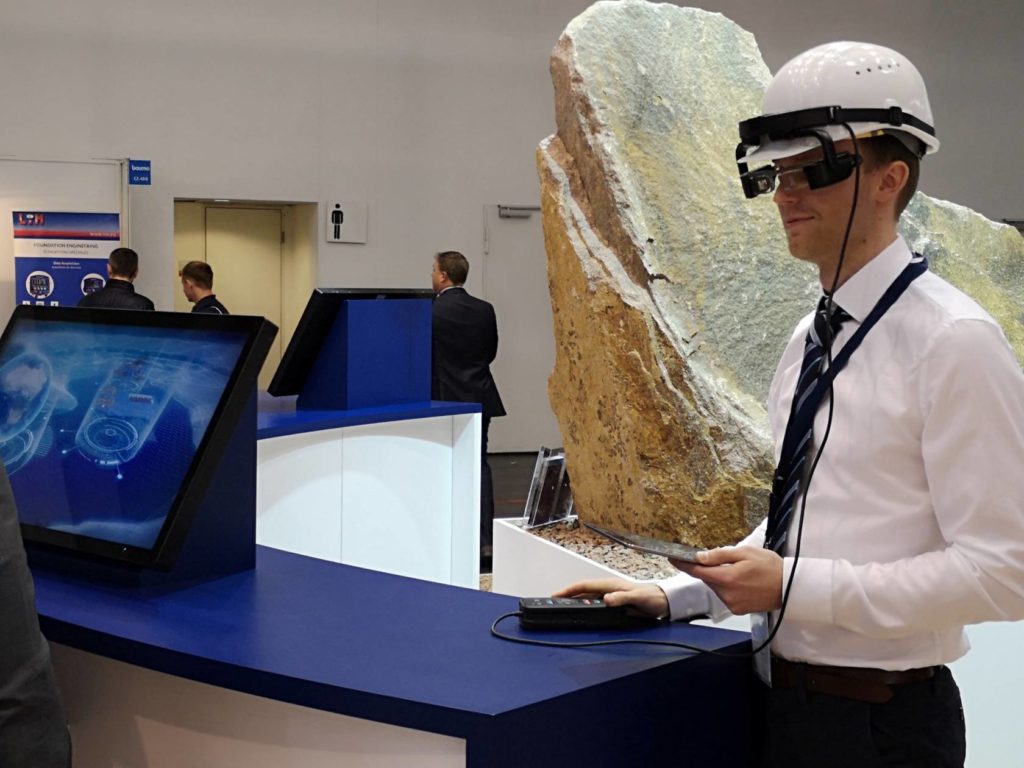 Tenova TAKRAF Embraces Industry 4.0
Thursday, August 8th, 2019
The Concept of Industry 4.0
In recent years, Industry 4.0 has evolved from an abstract marketing term to a real life beneficial use concept. Often mentioned in conjunction with terms like the Industrial Internet of Things (IIoT) or cyber-physical systems, it describes the continuous development of the three previous Industrial Revolutions towards a fourth revolution – the digitalization of almost all areas of our life, including industrial automation and IT systems. Today, the use of autonomous automation, real time processing of huge amounts of data, Artificial Intelligence (AI), robotics, pay-per-use business models or cloud computing, to mention just a few, come together to enable a more efficient and effective economy. The more useful the results of such technical innovations are, the more people seem to accept a computer assisted and controlled world and related data and AI driven services. This acceptance is one of the basic columns of all further developments in this field and is one of the principal tasks to be fostered, apart from the technical challenges that need to be resolved of course.
The Technological Parts
In the past, control system developments were often based on the so called "classic automation pyramid". In this pyramid, different levels of process automation are separated from each other and employ specialized communication protocols between the individual control layers.
In the world of IIoT, such strict structures are not useful any longer as (theoretically) even the individual sensor in the field can receive data from or send data to high-level analytical systems without going through all the levels of the formerly employed automation pyramid.
As much as such IIoT concepts increase flexibility, they do also make standardization of and interconnection between various systems (including legacy control equipment) difficult.
In the recent past, we have seen several attempts to standardize at least the data exchange between field equipment and a cloud environment by means of common protocols such as MQTT or standardized interfaces such as OPC‑UA.
In addition, some quite practical topics such as ensuring sufficient bandwidth between remote systems and cloud server architectures are often a unique challenge when it comes to isolated machines and sensors working in very remote areas within a mining environment.
As a matter of fact, many of the common IIoT systems on the market are based upon a structure consisting of some form of edge computing within local devices (such as data collectors or a local PLCs), which pre-separate the useless from the useful data and then transfer only the useful data to a database structure in a cloud environment. In such a cloud, there are virtually unlimited possibilities and computing power in order to process this collected data, enrich it with information from other sources or 3rd party applications, extract valuable information, perform predictions, anomaly detection or derive complex KPIs, to mention just a few. In addition, there are great tools available for presenting the results of such analyses to different user levels and on a large variety of different devices in a very efficient way.
Furthermore, the architecture of such systems makes it possible to relocate the workplace e.g. of operators or service engineers, traditionally located on site, to any remote location around the world.
With context sensitive user interfaces such as Virtual Reality (VR) or Augmented Reality (AR), the user is able to perform and handle his tasks in a more effective and safer manner. AR provides the user with additional information projected into a real-world view via a tablet or "smart glasses". VR in turn sends the user to a complete, computer-generated virtual world established through a special device such as the Oculus Rift or the HTC Vive – VR works very well for 3-D design reviews or even for sales purposes.
It should be remembered that digitalization and IIoT developments are more a "journey" which has just started, rather than being a completely defined approach to a well-defined destination. Many applications we see on the market can be considered "pilot applications", developed in order to explore options and demonstrate their usefulness towards finally obtaining acceptance by clients and/or users. In today's IIoT applications, human interaction is often still required as machine learning and AI capabilities are yet basic in many aspects.
TAKRAF's Current and Future IIoT Service Offerings
TAKRAF is a highly specialized supplier of machines and services in the fields of mining, materials handling and minerals processing. As such, we boast a large base of installed machines that daily generate valuable data from which we can gain information regarding optimization of design, operation and maintenance or even troubleshooting.
Leveraging this opportunity, TAKRAF rolled out an initiative for the collection of operational data for selected representative machines and/or key components. This so created "data lake" is being used for the development of concepts to generate insights regarding machine condition and machine KPIs that can be of great value for our customers and various internal colleagues.
Within this process, we learnt that even though data is the basis for almost all IIoT strategies, there is a significant difference between data and information. The most important and possibly most difficult step is generating useful information from collected operational data.
Following this logic, we developed a proprietary cloud environment, together with our colleagues from Tenova in Italy, based upon the Microsoft Azure platform. This environment provides us with the opportunity to transfer and store data from "edge computers" at our machines and process them in a cloud environment with a wide variety of available technologies.
As a side benefit, such data sets within the cloud can be easily exchanged with systems that may already exist within a mining operation's IT infrastructure into which we typically supply our machines.
One "pilot-application" we developed is a web-based application that shows basic KPIs and machine condition in a simplified and easy to understand manner on dashboards. This tool, called "WIDE", can be used by our clients and/or by our design specialists with a view to combining operational experience with TAKRAF's deep knowledge of the system's design. The possibilities to develop further applications that suit the needs of our clients are virtually unlimited.
Another topic on our R&D roadmap is dealing with so-called digital twins of our machines. As we invest significant effort in the design of our machines utilizing digital 3-D design tools, it is a logical step to "re‑use" this engineering data through the entire lifecycle of a machine. There are meanwhile promising tools available that link design data with live data coming from machine control systems or with asset management data such as documentation or maintenance activities into one common plant model.
A few further outcomes from our R&D activities include remote support solutions employing "smart glasses". Such tools are relatively easy to implement and already quite readily available. With these glasses, we are able to connect experts in an office with our commissioning engineers or our clients' maintenance staff on site in order to solve specific problems quickly and effectively, avoiding long trips and associated travel costs. For a proof of concept, TAKRAF availed itself of a solution from Epson using their "Moverio BT-2200" smart glasses.
Another "smart tool" we successfully presented at the 2019 BAUMA mining exhibition in Munich (Germany) is based on Schneider Electric's "Augmented Operator Advisor". This software tool, which runs on a tablet, is able to determine its positioning in the field based upon image recognition of the various parts around the user. Based upon this recognition, various "points of interest" can be defined together with context sensitive information such as manuals and maintenance procedures – live data can also be made available to the user.
Another important item on our R&D agenda is our electronic spare parts catalogues, which aim to simplify and improve our clients' experience with our machines. Linking predictive maintenance tools into such electronic spare parts offerings will enable our clients to conduct proactive maintenance in an effective and cost efficient manner, thus increasing the availability of our equipment.
TAKRAF has recognized the enormous benefits that IIoT technologies can provide our customers, together with the improvement of our own internal processes. As a result, IIoT is fully supported throughout our organization and plays an increasing role across all our product lines.
Architecture of TAKRAF data acquisition and cloud-connection tools
Based upon current IIoT technologies available today, TAKRAF equipped a select sample of machines with remote data logging systems as a part of our aforementioned R&D initiatives. One of our first successfully integrated systems is running in one of our high-capacity spreader and tripper car for a large overburden-handling project in South East Asia. This system was designed and is based upon hardware and software components supplied by iba AG, a specialist for data logging and analysis. A machine connector reads defined data from the Profibus DP of the machine control system without jeopardizing its security and/or integrity and writes those to the iba PDA server. On this server, the data is locally stored and analyzed, e.g. for automatically generated reports. Recorded data is then sent to our head office simultaneously or in batches.
As aforementioned, selected data can be transferred from the iba server to the Tenova cloud environment, which is hosted on the Microsoft Azure platform. Communication is based upon OPC, with the server hosted in the field and the cloud acting as a client.
Several API have access to the stored data providing the end user with services such as access to an online monitoring system. Logged data include status and error words, temperatures, process parameters such as conveying capacity, environmental conditions and much more. Presentation of recorded information is based upon the proprietary "WIDE" dashboards mentioned previously.
http://www.takraf.com