Global silver production to recover from 2020 to exceed one billion ounces by 2023, says GlobalData
Thursday, September 5th, 2019
Global silver production, which has been declining since 2016, is expected to recover from 913.5 million ounces (Moz) in 2019 to 1,029Moz in 2023, according to GlobalData, a leading data and analytics company.
Growth will be supported by nearly 50 projects producing silver as either a primary or secondary commodity. The projects are currently undergoing construction and expected to commence operations during the forecast period. Major upcoming projects include the El Cajon in Mexico, the Candelaria 2030 in Chile, Fruta del Norte and Mirador in Ecuador, and the Ozernoe and Udokan projects in Russia.
Vinneth Bajaj, Senior Mining Analyst at GlobalData, comments: "Although global silver mine production declined moderately by 2.4% to 920Moz in 2018, a significant decrease of 12.6% occurred in the US where labor strikes at the Lucky Friday mine severely impacted output. This was followed by Peru with a 5.8% decrease and Mexico with 5.6%, where lower ore grades and lower recovery rates led to falling output."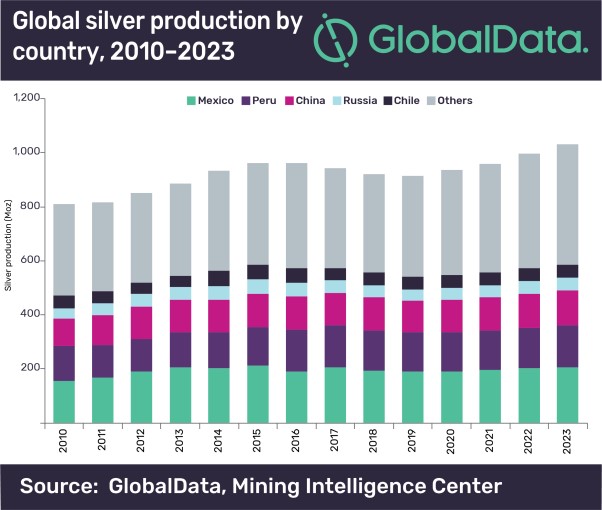 Increases in production in China (2%) and Russia (3.4%) partially offset the 2018 declines. The overall robust performance of the base metals sector in China, where silver is a by-product, and production increases at Russia's Albazino, Svetloye and Mangazeisky mines, were the key factors behind the growth in these countries.
Mexico, Peru, China, Russia and Chile were the world's top five producers of silver, accounting for a collective 60.5% or 556.9Moz in 2018. Industrias Penoles, KGHM Polska Miedz, Glencore, Newmont Goldcorp Corp and Polymetal International are the largest operators in the global silver mining industry.
Penoles produced 69.8Moz of silver in 2018 versus 66.4Moz in the previous year, representing a 5.1% rise. However, production from the remaining four companies fell from a collective 136.1Moz in 2017 to 126.6Moz in 2018, seeing a 7% decline.
https://www.globaldata.com/