Palladium One Applies for an Additional 13 km of Prospective Basal Contact at the LK PGE-Ni-Cu Project in Finland
Friday, September 6th, 2019
Palladium One Mining Inc. (TSXV: PDM) (FSE: 7N11) (the "Company" or "Palladium One") is pleased to announce that it has made application to expand the LK palladium-nickel-copper project by nearly 50%. With palladium metal prices having more than doubled over the past three years to roughly US$1,550 per ounce, the LK Project appears extremely compelling and therefore the Company is seeking to acquire the remaining adjacent high-
potential ground, to maximize the ultimate size of the LK project.
The Company has made applications for 2 Reservation Decisions, Haukiaho East and Lipeavaara, representing ~13 km's (totalling 1,174 hectares) of the favourable mafic-ultramafic basal contact of the Koillismaa Complex in north-central Finland, from the Mining Authority of Finland.
These reservations could substantially add to the Company's existing project which already includes ~25km (~2,500-hectares) of favourable basal contact, of which less than 4km has been systematically drill tested. See Map 1.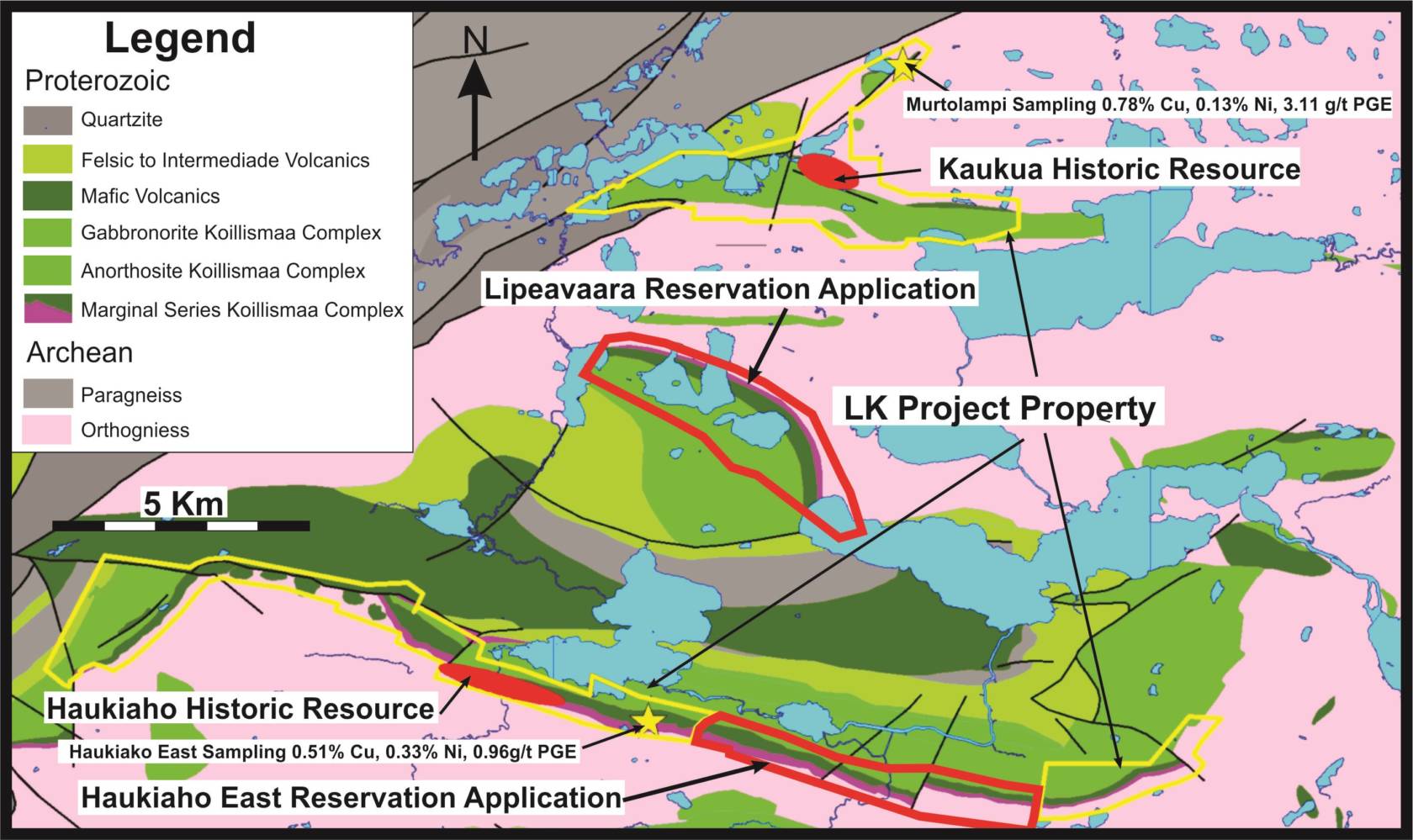 Map 1.
If approved, the Company would control ~38 kms of the favourable basal contact horizon within a ~3,700 hectare property portfolio.
The Haukiaho East reservation application includes 7 km of favourable basal contact on strike to the east of the historic Haukiaho resource and covers several highly anomalous mineralized intercepts from historic diamond drilling. Additionally, the reservation begins ~1 km east of the PGE-Ni-Cu mineralization identified via chip sample from the Haukiaho property reported on August 12, 2019 (see press release)
The shallow reconnaissance diamond drilling by Outokumpu in the 1960s along this portion of the basal contact intersected highly anomalous Cu- Ni mineralization, such as 12.31 m of 0.23% Cu and 0.14% Ni in hole R666, however, no PGE analysis was performed. Later limited resampling of this drill core, undertaken by the Geological Survey of Finland (GTK), returned up to 0.65 Pd and 0.24 g/t Au (hole R666), no Pt analysis was performed.
The Lipeavaara reservation application includes 6 km of favourable basal contact, and hosts a historic Cu-Ni-PGE showing. Shallow reconnaissance diamond drilling by GTK in the late 1990's returned anomalous mineralization up to 14.52m of 0.27 g/t Pd, 0.12 g/t Pd, 0.25 % Cu, and 0.17 % Ni in hole R379.
Derrick Weyrauch, President and CEO, stated, "With a wealth of well documented historical data, including drill core, available to the Company, a significant amount of initial exploration risk has been mitigated with regard to the new property applications. We believe, that building on this historic data and applying a systematic approach to exploration, will garner success. We see a significant opportunity to expand known mineralization throughout the LK Project."
A Reservation Decision gives a priority right to the recipient to apply for an Exploration Permit. The maximum length of a Reservation Decision is two years, during which time it is expected that the recipient would apply for an Exploration Permit.
An Exploration Permit gives the recipient full rights to conduct exploration activities including test mining and construction of temporary roads and buildings, provided however that such activities are specified in the underlying Exploration Permit.
https://www.palladiumoneinc.com/