It would be odd to phase out coal
Monday, November 11th, 2019
Former prime minister John Howard said he considered it "strange" that any Australians should suggest phasing out the nation's coal industry while addressing a conference of Chinese and Australian entrepreneurs.
Mr Howard told the Sino-Australasian Entrepreneurs Summit that the rise of China had been "good for the Chinese people and good for the world" and that the economies of the two nations were complementary.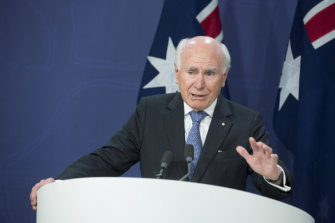 "There is no doubt that the resource trade between Australia and China is and will continue for many decades into the future to be enduringly important to the economic links between our two countries," he told the audience at the Australian Stock Exchange in Sydney.
"It is passing strange to me that some Australians talk about phasing out coal. For heaven's sake it is one of our great assets … [iron ore and coal] exports form the bedrock of our trading relationship with China."Mr Howard said that despite the great benefits of the deepening relationship it was important to recognise that Australia and China had fundamentally different political systems.
"We are different culturally. That is not automatically of itself a barrier to friendship and co-operation," he said. "We do have fundamentally different political systems and it does not profit the relationship to pretend that [the differences] don't exist. Australia is a thriving liberal democracy …  and we are not going to change that system. Equally it has to be said that China is an authoritarian, one-party, Communist state. There is no reason for us to pretend otherwise.
 Chinese premier commits to improving relations with Australia.
"I think it is important that these things be understood … There will be tensions. Those tensions are not insoluble, those tensions can be managed. They can best be managed by both China and Australia focussing on the things that we have in common."
https://www.brisbanetimes.com.au/politics/federal/it-is-passing-strange-to-me-howard-tells-entrepreneurs-it-would-be-odd-to-phase-out-coal-20191111-p539f5.html