TMC collects first batch of polymetallic nodules from seafloor
Friday, October 14th, 2022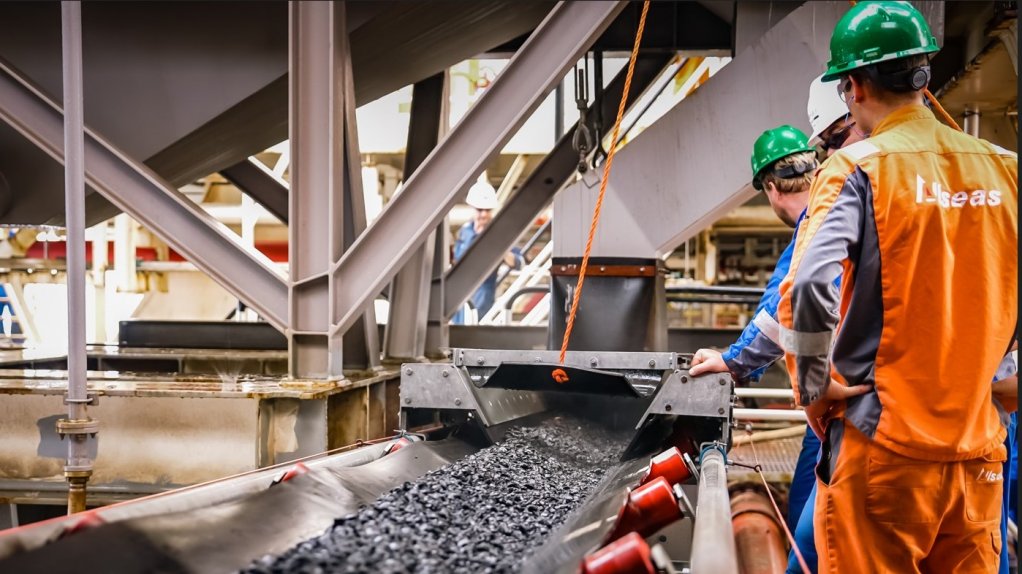 Engineers inspect polymetallic nodules transported from the ocean surface.
Nasdaq-listed The Metals Company (TMC) on Wednesday announced that it had successfully collected an initial batch of seafloor polymetallic nodules and transported them up a 4-km-long riser system to the surface.
This, the company said, represented the first integrated system test conducted in the Clarion Clipperton Zone (CCZ) of the Pacific Ocean since the 1970s.

"With the first nodules making their way from seafloor to surface using an integrated pilot collection system, we find ourselves at an historic moment in the development of this industry," says TMC CEO and chairperson Gerard Barron.
Upon completion of the trials, which require the coordination of 250 people across three vessels, the research teams will undertake post-collection surveys to compare the status of the environment before and after the test. The data collected, together with many terabytes of existing baseline data collected by TMC subsidiary NORI throughout 16 offshore campaigns, will form the basis of NORI's application to the International Seabed Authority (ISA) for an exploitation contract.

The company expects to submit its application in the second half of 2023.
In September, NORI announced that it had received the ISA's recommendation to start its pilot nodule collection system trials in the CCZ after its review of the collector test environmental impact statement and collector test environmental monitoring and management plan.
TMC says that, while several ISA contractors have successfully conducted trials of prototype nodule collectors in recent years, NORI's tests will mark the first time an integrated nodule collection system — including nodule riser — has been tested in the CCZ since the 1970s, when oil, gas, mining and industrial majors including Shell, BP, Rio Tinto (Kennecott), US Steel, INCO (Vale) and Sumitomo successfully conducted pilot test work, collecting over 1 500 t of nodules.
In May 2022, TMC and Allseas announced successful trials of the nodule collector vehicle in deep water in the Atlantic as well as harbour wet-test commissioning and shallow-water drive tests in the North Sea.
"Once again, our strategic partner Allseas have shown why they're the best in the business when it comes to pioneering offshore engineering and operations. This is just the beginning, and we look forward to sharing more news as the trials and impact monitoring continue this quarter," says Barron.