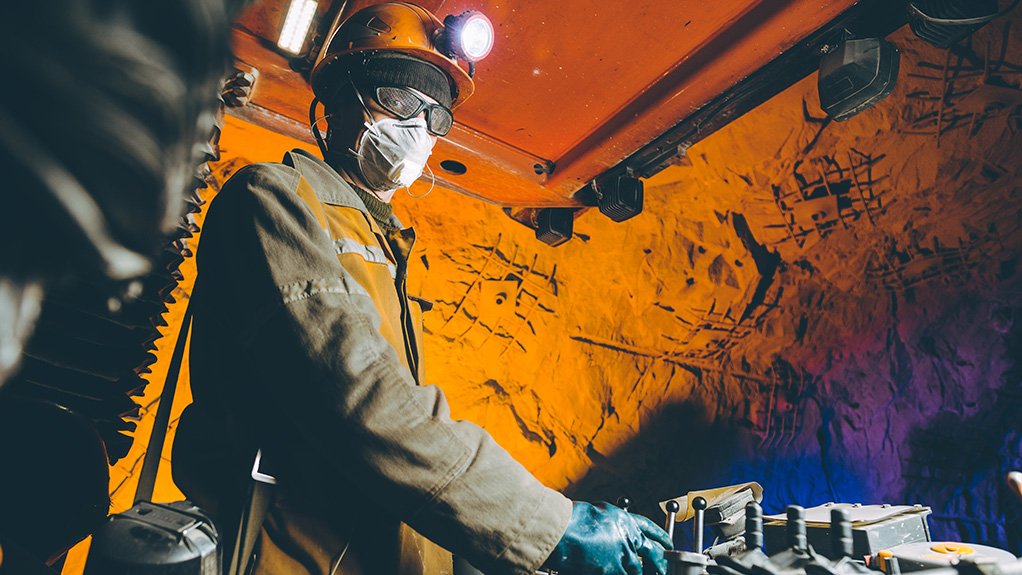 VIRUS POSITIVESCovid-19 has, however, helped to promote collaboration between governments and miners worldwide, such as information sharing and donating funds
 The global mining industry is facing a new reality amid the Covid-19 pandemic, with measures to curb the spread of the virus impacting on economies, mining operations and their supply chains, manufacturing industries, the general public and, consequently, the demand for minerals and metals.
As at mid-April, hardly any country remained unaffected by Covid-19, whether directly by infections or indirectly through trade relations.This new reality for mining includes increasingly volatile commodity prices, executives taking pay-cuts, staff being retrenched or forced to go on unpaid leave, limited mining and processing operations, if any, as well as travel restrictions, physical distancing measures and special precautions to not only limit the spread of the coronavirus, but also mitigate its economic impact.
Some miners have already adapted, hosting conferences virtually and holding online auctions or tender processes; however, such quick digital transitions have not been the norm, owing to cost considerations, business model factors or the general nature of the business.
Covid-19 has caused uncertainty around the immediate future of many mining operations, which may just motivate an increased uptake of automated and digital mine solutions once the virus has been contained.
Many miners have withdrawn production and distribution guidance to conserve cash, while others have delayed the publishing of their financial statements to first evaluate the impact of Covid-19.
Ratings agency Fitch predicts that the global gross domestic product will contract by 1.9% this year, which will translate into decreased demand for many commodities, including copper, which it says will suffer a 6% year-on-year decrease in demand.
Weaker Demand
Fitch says there has been weaker demand for nickel from sectors that use stainless steel, while the aluminium market is also heading for an oversupply, owing to weaker automotive production globally.
Covid-19 has, however, helped to promote collaboration between governments and miners worldwide, such as information sharing, while mining companies are supporting governments and communities by donating funds and essential goods.
World Diamond Council director and Jewellers of America CEO David Bonaparte describes the impact on jewellery retail as "dramatic", particularly in the US, with store closings in Covid-19 hot spots such as Washington state, New York and California.
He points out that the pandemic has increased the diamond and jewellery industry's hunger and need for information.
The council has hosted various webinars focused on issues pertaining to Covid-19, which included topics such as store security, employment law, social media best practice, legal compliance, payment processing for online sales and tips to combat a recession.
"Industry organisations are sharing information at an unprecedented rate to help the greater industry get through this period," says Bonaparte, adding that during this time companies often band together to create a network of support or resources.
In Australia, the Minerals Council of Australia has hosted a working group meeting with senior mining company representatives and state associations to discuss how the industry can work together to support the communities in which it operates and share information to keep mine sites safe and producing. The country started its lockdown on March 23.
Gold miner Newcrest established a A$20-million community support fund to assist host communities in Australia during the pandemic, including some funds for vaccine research.
Further, mining major BHP established a A$50-million Vital Resources Fund to help support regional Australian communities in the company's areas of operation, which are facing some significant challenges in terms of health services.
Meanwhile, diversified miner Glencore launched a $25-million fund last month in response to the Covid-19 pandemic, to support governments and health agencies in more than 35 countries.
Diamond miner De Beers contributed $2.5-million to aid Botswana and Namibia in their response to the coronavirus.
Gold miner Barrick Gold Corporation has contributed $1.7-million towards a Tanzanian support programme, which helps provide critical equipment and expertise in the country to manage the spread and impact of Covid-19.
Barrick also announced a $1.5-million support programme in the Democratic Republic of Congo, while it donated $530 000 in support of the Zambian government.
In South Africa, among the many initiatives launched by mining companies, gold miner AngloGold Ashanti has made two of its mining hospitals available to the provincial governments of the North West and Gauteng to treat and isolate Covid-19 patients.
Many governments across the world have also launched assistance to companies in need.
For instance, to support the mining industry, the government of Greenland has waived mineral exploration licence obligations and expenditure until the end of the year.
The South Australian government has assisted explorers in the region by deferring costs linked to exploration and licence fees in both the mineral and petroleum sectors.
Canada has extended its wage subsidy to include businesses of all sizes. The Mining Association of Canada explains that the wage subsidy that the country offers, initially only to smaller businesses, is critical in helping to keep the country's 626 000 people in the mining industry employed. The government will temporarily subsidise 75% of employees' salaries up to a C$58 700 salary, to help prevent lay-offs.
Unprecedented Measures
Most mining jurisdictions worldwide have had to adhere to strict lockdown-type measures in varying degrees.
South Africa imposed a five-week lockdown period from March 27 to April 30, with a phased reopening of the economy following the lockdown period.
Minerals Council South Africa has published a ten-point action plan for Covid-19, which outlines several measures for mining companies to deal with Covid-19, taking its lead from the World Health Organisation.
Law firm Webber Wentzel believes that after the lockdown ends in South Africa, certain mining companies may not be able to restart their operations.
"Or, if they do, it will happen at reduced levels and this will ultimately result in numerous applications being submitted to the Department of Mineral Resources and Energy for amendments to mining work programmes, or even amendments to current social and labour plants to cater for the country's new position," the firm says.
Further, Impala Platinum Holdings spokesperson Johan Theron told Bloomberg in April that even if mines manage to remain in good financial stead by the time the lockdown ends, it could take three to four weeks to ramp up production at deep-level mines, as thousands of returning employees would need to be screened for Covid-19 to prevent a surge in the spread of the virus.
The Association of Mineworkers and Construction Union has proposed working with mining companies and government officials to draw up a new code of practice for Covid-19 before mining production restarts.
This will be part of the "new reality" that South African miners will face; similar codes will most likely be suggested in other prominent mining countries globally.
New Solutions
Since Covid-19 increasingly started affecting mining jurisdictions globally, miners themselves, or other solution providers, have grasped the opportunity to help manage the impacts of Covid-19 on mining operations.
For example, Earth observation software company Pinkmatter Solutions has developed a Web-based platform called the FarEarth Change Monitor, which uses satellite images to monitor mining operations remotely. The platform can perform calculations quickly, relying on data obtained by Earth observation satellite operations.
The platform can be accessed anywhere in the world with Internet access and requires no specialist software to be installed.
FarEarth Change Monitor enables users to draw their own area of interest polygons, lines or points to measure objects at a specific time or to display changes over a time series.
Meanwhile, London-listed Gem Diamonds has hosted flexible tender sales processes, after a large tender had to be cancelled, owing to travel restrictions in Belgium. The company raised $12-million last month during the first round of its Letšeng flexible tender sales process.
The process involves direct sales and partnership agreements, consequently allowing for diamond sales to continue despite Covid-19 restrictions.
Similarly, Russian miner Alrosa launched a digital tender for special size rough diamonds weighing more than 10.8 ct, after the miner had cancelled upcoming auctions for such diamonds because of travel restrictions.
The digital tender, which took place from March 23 to April 6, was based on technology that provides a client with a full digital scan of each rough diamond for detailed analysis.
On the investment side, the World Platinum Investment Council (WPIC) late in March noted that the supply of retail products was tightening amid Covid-19 contingencies, and that investing in physical platinum without taking delivery of investment bars and coins is an accessible and cost-effective way of owning platinum.
The WPIC pointed out that investors looking to own physical platinum while trying to avoid fulfilment constraints – and potentially paying significant premiums above the spot price – can choose to access their investments online.
For example, online bullion accounts enable investors to buy, store and sell physical platinum bullion through a trading platform.
Moreover, the World Federation of Diamond Bourses (WFDB) created the World Federation Diamond Trading Platform – a cross-bourse trading platform for investors to continue trading with peace of mind during uncertain times.
WFDB president Ernie Blom notes that if there is any silver lining and benefit to Covid-19, it has taught us that we must all come together to promote and facilitate the diamond trade in order for members of every bourse to trade freely with one another and to feel safe while doing so.