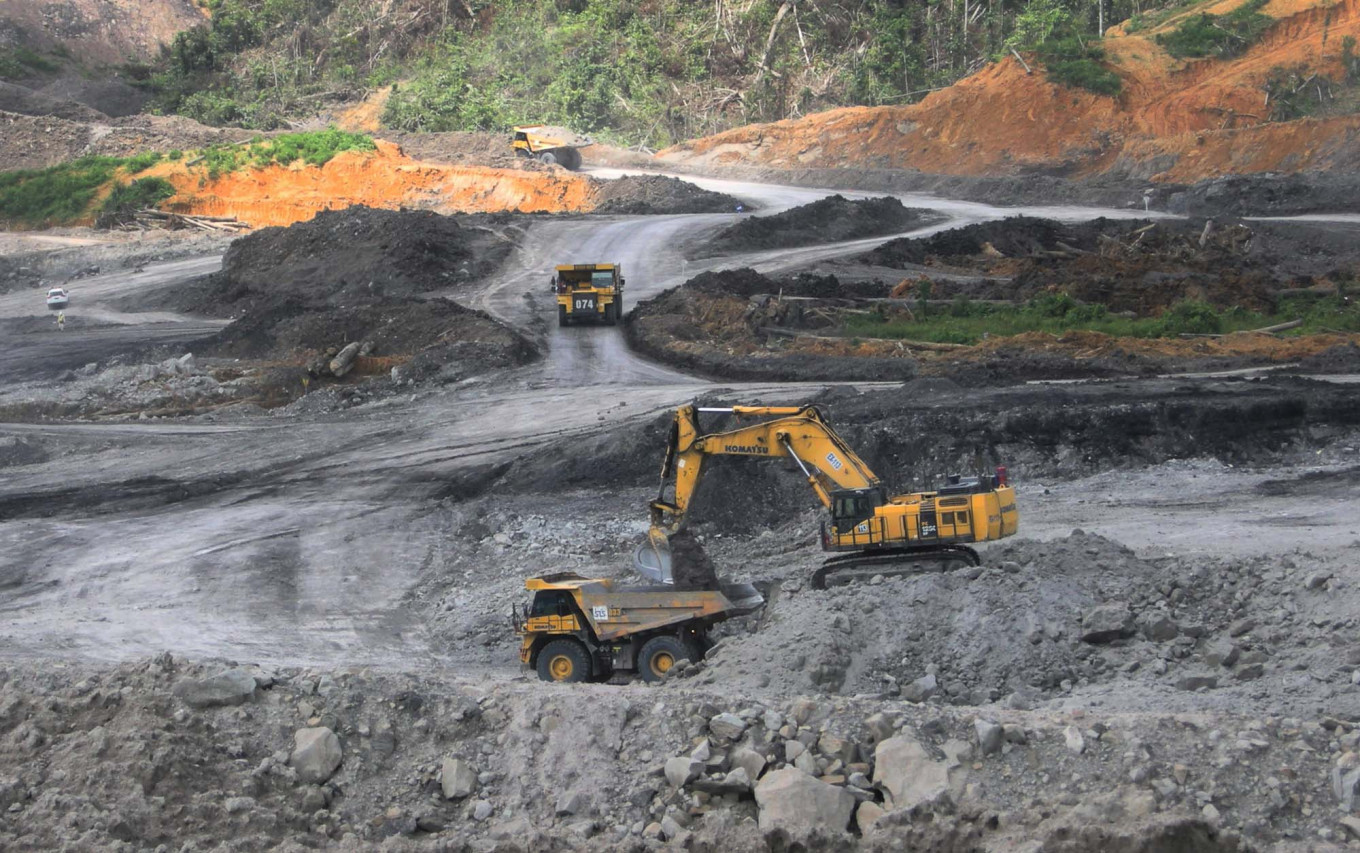 Excavators operate at a coal mine owned by PT Berau Coal in Binungan, East Kalimantan. (JP/Indra Harsaputra )
United States chemical company Air Products & Chemicals will team up with two local companies, Bakrie Capital Indonesia and Ithaca Resources, to build a coal-to-methanol production facility in Bengalon, East Kalimantan.
Bakrie Capital Indonesia, part of the Bakrie Group, and Ithaca Resources, part of AP Investment, will supply the coal feedstock and have committed to supply the methanol for sale in Indonesia under a long-term contract, the US company announced on Thursday.
Air Products said it would invest about US$2 billion to build, maintain and operate facilities for air separation, gasification, syngas clean-up, utilities and methanol production for Bakrie and Ithaca.This facility will enable nearly two million tons per year (TPY) of methanol to be produced from nearly six million tons of coal. The project is expected to begin in 2024.
Jodi Mahardi, a spokesman for the Office of the Coordinating Maritime Affairs and Investment Minister, said the coal gasification project, the second in Indonesia, could reduce the country's reliance on methanol imports. Gasification converts coal into methanol, the key component in the production of the government's flagship B30 biodiesel, which uses 30 percent palm oil.
"Technological progress keeps going, and the government is committed to increasing added value," Jodi said on Thursday. "We also hope it will increase employment opportunities as [the project] needs local workers in its development and operation."
Indonesia, which is in the top five global coal producers, recently passed a law to revise the 2009 Coal and Mineral Mining Law to promote the development of the downstream mining industry, which includes gasification projects, by easing permits, among other measures. The government hopes to collect $7.8 billion from investment in the mining sector this year.
In a joint statement released on Thursday, Bakrie Capital Indonesia CEO Adika Nuraga Bakrie and Ithaca Resources president director Agoes Projosasmito said "there is strong momentum for this project, which will produce high-value methanol from abundant, low-value coal reserves."
Last year, coal production reached 610 million tons, exceeding the government target by 124.7 percent. The government, therefore, raised has raised this year's production target to 550 million tons.
"This is another example of our long-term strategy to deploy capital into high-return strategic industrial gas projects," Air Products & Chemicals chief executive officer Seifi Ghasemi said in a statement on Thursday.
Previously, state-owned oil firm PT Pertamina and state-owned coal miner PT Bukit Asam agreed to work on a similar coal gasification project. The project produces dimethyl ether (DME), a raw material for the production of liquefied petroleum gas (LPG), according to Bukit Asam president director Ariviyan Arifin.
The government is hoping to reduce the country's gas imports through the project. Because of the unfolding COVID-19 pandemic, Indonesia's overall oil and gas imports have actually declined by 61.78 percent year on year to $850 million last month.