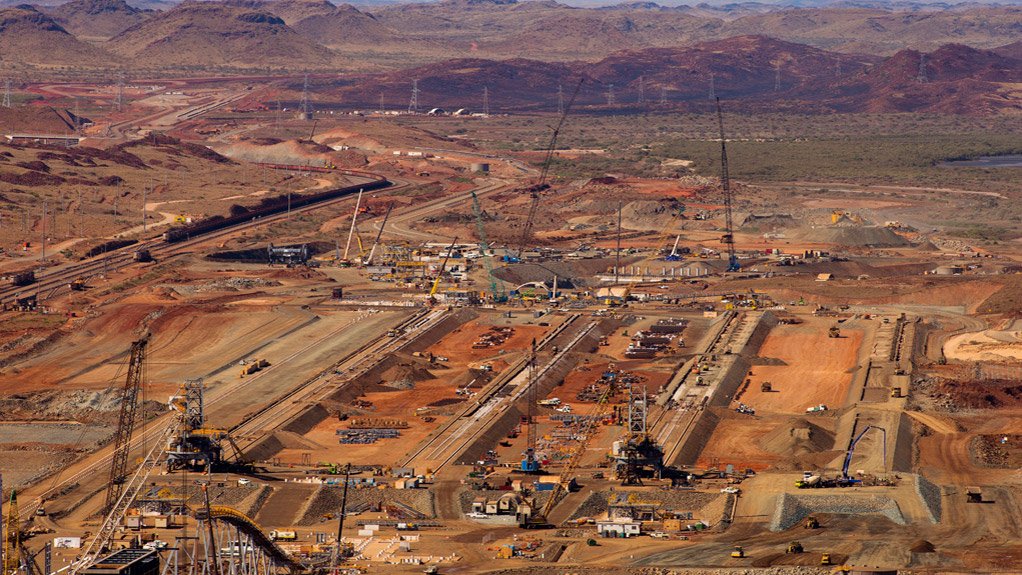 Mining major Rio Tinto has reported increased production across most of its commodity portfolios for the second quarter ended June.
Pilbara iron-ore production was up 7% on the previous quarter, to 83.2-million tonnes, with shipments up by 19% in the same period to 86.7-million tonnes. In the first half of the year, the Pilbara operations produced 161.1-million tonnes of iron-ore, with Rio's share accounting for 133.2-million tonnes.
 First-half shipments amounted to 159.6-million tonnes, with Rio's share reaching 132-million tonnes, which was 3% higher than the previous corresponding period.
"We delivered a strong performance, particularly in iron-ore and bauxite, demonstrating the underlying resilience of our business and ability to adapt in difficult conditions," said CEO Jean-Sebastian Jacques.
 Bauxite production for the second quarter was up by 5% on the previous quarter, reaching 14.6-million tonnes, with production at the Amrun mine, in Cape York, underpinning the increase in production, along with an increase in production at the CBG joint venture in Guinea.
Aluminium production remained stable at 785 000 t during the second quarter, compared with the first, but down 2% on the previous corresponding period owing to a pot relining at the Kitimat operation.
Post the end of the quarter, Rio announced a wind-down of its New Zealand smelters, following a review of the asset. The wind-down would take place over the next 14 months.
Meanwhile, mined copper production for the second quarter also remained stable at 132 800 t, compared with the first quarter, but declined by 3% on the previous corresponding period on the back of pit sequencing and lower copper grades at the Kennecott operation.
Scheduled maintenance at the Oyu Tolgoi operation also affected copper production in the June quarter, compared with the previous corresponding period. However, this was slightly offset by increased copper production at the Escondida operation, despite a reduction in the workforce in response to the Covid-19 pandemic.
"Despite various Covid-19 related challenges, all our assets have continued to operate, with our first priority to protect the health and safety of our employees and communities," Jacques said on Friday.
"Our focus is to maintain a business as usual approach with many safeguards at a very unusual time. Our operational teams are continuing to run our assets safely so we can continue to contribute to local and national economies and serve our customers.
"We remain even more committed to our relationship with communities, following the Juukan Gorge event in the Pilbara, and we are engaging with Traditional Owners around our operations and across Australia.
"We are executing our value over volume strategy to drive performance, productivity and free cash flow per share. We will remain agile and ready to adapt to the changing operating and macro environment," Jacques said.