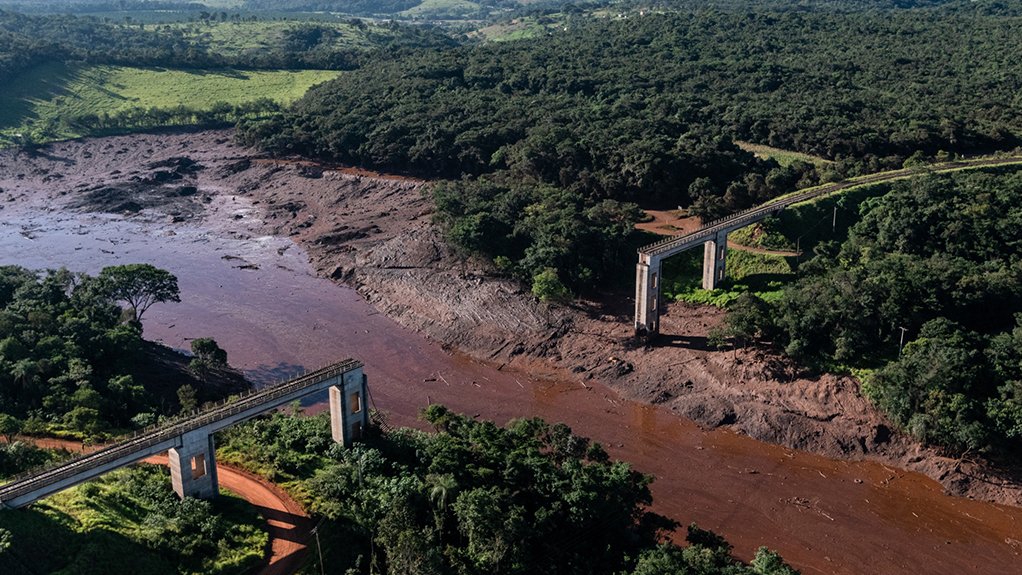 The Corrego do Feijao tailings dam collapse, in Brumadinho, left the nearby river polluted
The Global Tailings Review (GTR) on August 5 launched the Global Industry Standard on Tailings Management, which aims to ensure tailings dam failures are a thing of the past.
The GTR was co-convened by the United Nations Environment Programme (UNEP), the Principles for Responsible Investment (PRI) and the International Council on Mining and Metals (ICMM), in response to the catastrophic failure of a tailings facility at the Córrego do Feijão mine, in Brumadinho, Brazil, in January 2019.The dam released a mudflow that advanced through mine owner Vale's offices, staff amenities, houses, farms and roads downstream, killing 270 people in its wake.
United Nations Educational, Scientific and Cultural Organisation professor of marine science Elaine Baker, who was a member of the international advisory panel that oversaw the development of the new protocols, says tailings dams are some of the largest human-made structures in the world and require careful ongoing management.
"While failures of these dams are uncommon, they can be catastrophic for downstream communities and the environment when they do occur," she adds.
A statement by the UNEP notes that the reasons for these failures are well understood. Therefore, the task of the review was to establish a standard that would ensure mine operators apply best practices in planning, design, construction, operation, maintenance, monitoring, closure and post-closure of tailings facilities.
Baker points out that the differences between the global standard and many existing standards for tailings dam management include provisions for greater consultation from the outset with potentially affected communities.
UNEP economy division director Ligia Noronha highlights that the global industry standard is an important milestone towards the ambition of zero harm to people and the environment from tailings facilities.
The standard will strengthen current practices in the mining industry by integrating social, environmental, local economic and technical considerations. The new standard covers the entire tailings facility lifecycle – from site selection, design and construction, management and monitoring, through to closure and post-closure.
"It also includes increased independent engineering oversight at all stages of tailings management; more transparent mine operator accountability; increased public access to consequence of failure information; and an increased standard of reporting.
"These initiatives represent a system-wide change in tailings management," Baker avers.
The standard covers six key topics: affected communities; integrated knowledge base; design, construction, operation and monitoring of tailings facilities; management and governance; emergency response and long-term recovery; and public disclosure and access to information. These topics contain 15 principles and 77 specific auditable requirements for operators to adhere to.
The launch of the standard is supported by two accompanying documents, published independently by the GTR: an in-depth compendium of papers that explore various operational and governance issues related to tailings and a report on the feedback from an extensive public consultation process that was conducted.
"We are asking operators to support community and environmental recovery. They are required to establish a community-focused emergency preparedness and response plan.
"We are asking operators to respond to and engage with communities and the public sector to prepare for the event of a failure, while supporting the long-term recovery of communities and the environment affected by a tailings facility failure," says GTR chairperson Dr Bruno Oberle.
Church of England Pensions Board ethics director Adam Matthews says the standard will be driven by banks and investors to ensure that funding is not granted to miners that have not demonstrably adopted and continued to implement the principles set out in the standard.
ICMM CE Tom Butler says the organisation will be ensuring that members conform to the standard within three to five years. The organisation's members, which comprise about a third of the world's mining industry, operate 12-million tailings dams globally.
TSX-listed Barrick Gold has welcomed the global standard, stating that the company's tailings and heap leach management standard comprises six levels of inspection and surety. "These range from high-tech monitoring technology, including piezometers, inclinometers, drone and satellite surveys, to movement detection and drainage measurement. Internal specialists conduct regular assurance audits and our tailings management is also reviewed by an independent tailings review committee composed of internationally recognized experts in this field."
Gold Fields Limited (Gold Fields) (JSE, NYSE: GFI) welcomes the Global Industry Standard on Tailings Management (the Standard), which was launched today by the United Nations Environment Programme (UNEP), the Principles for Responsible Investment (PRI) and the International Council on Mining & Metals (ICMM).
As a member of the ICMM, Gold Fields has also helped formulate the standard and confirms it will start with its implementation, aligning it with the company's existing tailings storage facility design and governance processes.
"Strengthening current practices in the mining industry by integrating social, environmental, local economic and technical considerations, the standard covers the entire tailings facility lifecycle – from project conception, planning and design, through operation and ongoing construction, to closure and post-closure."
"Although many of the principles in the standard are well-reflected in the laws and regulations of some of the key mining jurisdictions, the ambitions of the standard, when compared to domestic law, sets a higher threshold for achieving the degree of integrity, safety and community protection necessary for the development and management of tailings facilities," says law firm White & Case partner Rebecca Campbell, who led the firm's team advising GTR.
NEED FOR A REGULATORY BODY
Human rights, development and environmental organisation London Mining Network (LMN) in a commentary piece on the global tailings standard, meanwhile, says tailings dams are dangerous because of the risk of collapse which can release large amounts of mining wastes with significant force.
LMN states that these often gigantic structures are used for long-term storage of mass wastes, from metal ores, coal, fertilisers, and tar sands mining. They can contain tens of millions of cubic metres of toxic byproducts.
In the five years between 2014 and 2019, three catastrophic collapses occurred. The impacts of these have been serious, and the risk of collapse much greater than had been assumed, it adds.
By the time of the third of these disasters, in 2019, it was clear that internal pressures in mining companies led them to prioritise output over safety and that national governments' regulatory systems were weak. The resulting cost of these combined factors was extreme, LMN states.
During the Brumadinho incident, 12-million cubic metres of mining waste spilled out in a huge mudflow. It struck the mineworkers' cafeteria during lunchtime before advancing through houses, farms and down roads.
The Paraopeba river was flooded with toxic sludge, contaminating a major water supply, while the nearby town of Brumadinho was devastated, LMN points out.
Before the global industry standard on tailings management was finalised, the industry was guided by the ICMM produced tailings guidance, published in 2016, that called only for defined chains of assurance within mining companies.
Prior to this, in 2014, the Mount Polley gold/copper mine in British Columbia, Canada spilled ten-million cubic metres of process water and 4.5-million cubic metres of tailings slurry.
Trees, rocks and mud were swept into local waterways and created what was dubbed at the time the worst environmental disaster in Canadian history, LMN explains.
In the wake of this, a set of safety guidelines was drawn up by an independent panel . These were recognised internationally, including by UNEP and the industry-supported Initiative for Responsible Mining Assurance.
LMN, however, believes these guidelines were quietly pushed to one side and never adopted by the mining industry.
Again in 2015 the Fundão tailings dam collapsed, in Minas Gerais, Brazil. An estimated 32-million cubic meters of mining waste from the Samarco mine – jointly owned by Vale and BHP – spilled out, carrying mining deposits into the Rio Doce river system and out to the Atlantic Ocean, which is a few hundred kilometres away.
LMN states that BHP is currently involved in a £5-billion lawsuit, that involves 200 000 Brazilian citizens asking the British courts for the right to sue the company over its failure to prevent the Samarco dam collapse.
LMN says that without proper monitoring and enforcement, these new standards risk being little more than mining industry propaganda. "Only an independent, international regulatory organisation can ensure such monitoring and enforcement."
The network points out that many mining companies have proven that they can police themselves to prevent disaster, but there should not be an option for the mining industry to choose not to.
LMN reports that, when the GTR made a draft of its standards available for comment at the beginning of this year, international environmental, solidarity and human rights groups voiced a number of concerns.
"Among numerous issues, there had been no statement on 'lessons learned' from the collapse of the tailings dams in Brazil and most critically no commitment to establishing a credible, transparent and independent international agency capable to ensure safe tailings worldwide."
LMN says that, unless this key aspect is addressed, it may not matter how comprehensive and rigorous the suggestions of the GTR are – even the best standards remain useless if they are not implemented, or if they are not enforced.