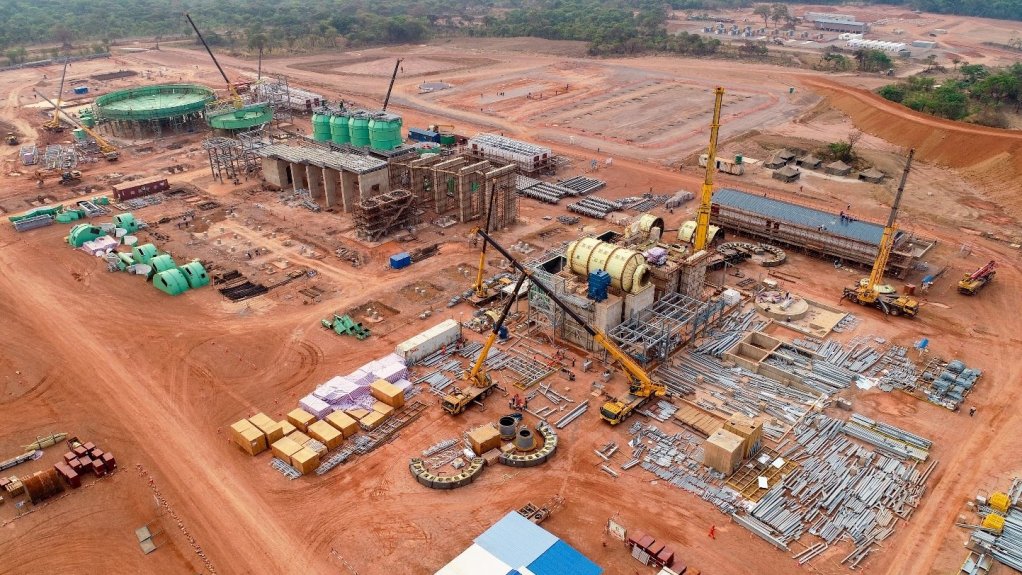 Aerial picture of Kakula's initial 3.8-million-tonne-a-year processing plant under construction.
Toronto-listed Ivanhoe Mines is accelerating its Kamoa-Kakula expansion in the Democratic Republic of Congo to prepare for an expected surge in copper demand that will outstrip supply.
The expansion of Kakula processing plant from 3.8-million tonnes a year to 7.6-million tonnes a year would be brought forward from the first quarter of 2023 to the second quarter of 2022, the company announced on Monday.
In order to accelerate, the Kamoa-Kakula joint venture would order long-lead items with a total commitment value of $100-million within the coming weeks, of which an estimated $25-million would be spent this year.
"There are many smart people in the mining industry who strongly believe that copper is quickly approaching a supply and demand divergence; where the amount of copper being produced globally will be far outstripped by demand," said co-chairperson Robert Friedland. "As such, we want to ensure that the Kamoa-Kakula operation reaches its near-term production potential as expeditiously as possible, while also maintaining our strong balance sheet."
"Getting into the queue now for the critical long-lead-time items, such as the ball mills, costs very little up-front money and enhances our flexibility to quickly move ahead on the first of multiple planned expansions."
A recent prefeasibility study for the expanded 7.6-million-tonne-a-year mining operation – sourcing ore from both the Kakula and Kansoko mines – outlines an after-tax net present value, at a 6% discount, of $6.6-billion and an internal rate of return of 69% over a 37-year mine life, as well as payback of 2.5 years.
The economic model assumed a copper price of $3.10/lb, but Friedland pointed out that at least one major global investment bank was forecasting prices ranging from $3.20/lb to $3.60/lb over the next six to 12 months, based on its view that a supply deficit would form in 2021.
Ivanhoe further reported that construction of Kakula's initial 3.8-million-tonne-a-year processing plant was well under way, with the remaining long-lead items already delivered to site, with the exception of the transformers, which were expected in October.
Kakula is projected to be the world's highest-grade major copper mine with an estimated average ore feed grade of 6.6% copper over the first five years of operation, and 6.2% copper over the first 10 years.