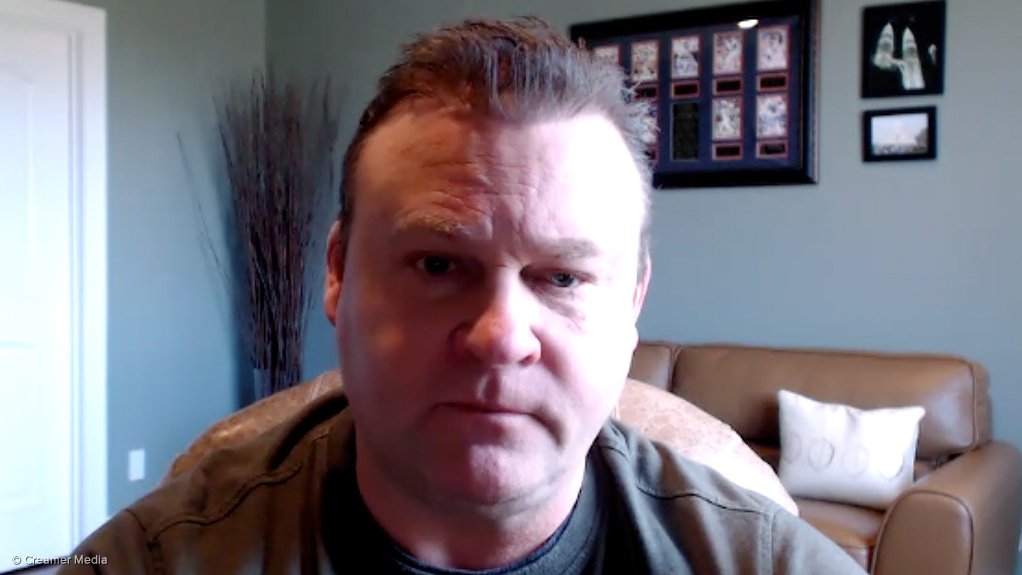 Photo by Creamer Media
David Bow …..emission from mining trucks equivalent to the entire emissions from a country such as New Zealand or Finland.
The electrolyser that will generate renewable hydrogen for the world's largest hydrogen fuel cell electric vehicle project has been delivered to site by Nel Hydrogen Electrolyser AS, as part of the joint partnership with ENGIE and Anglo American, announced last year.
ENGIE is providing the renewable hydrogen solution for Anglo American, which is taking steps to reduce the emissions associated with mining mobility by putting the hydrogen haul truck into operation.
The 300 t truck being developed at Anglo American Platinum's Mogalakwena platinum group metals mine, in Limpopo, is on track to make its debut next year, when the 3.5 MW alkaline electrolyser will provide the required hydrogen, Senior Vice President Business Development David Bow informed Mining Weekly in a Zoom interview on November 19. (Also watch attached Creamer Media video.)
The electrolyser will split water into hydrogen and oxygen and the excess hydrogen will be stored for use at night or when solar radiation is poor."What's exciting to us is to see Anglo American taking this big decarbonisation step. Clearly, Anglo gets the hats off and for us it's an amazing opportunity," said Bow, who also paid tribute to ENGIE, the electricity utility multinational that is providing the renewable hydrogen solution, Ballard Power, the provider of the fuel cells, and Komatsu the provider of the truck being retrofitted.
The long-term target is to convert the entire fleet of haul trucks at Mogalakwena to hydrogen and to also introduce decarbonised hydrogen mobility at other Anglo American mines.
"It's important to understand that just one of these trucks, when diesel powered, consumes over 900 000 litres of diesel fuel a year, which equates to enormous amounts of carbon emission.
"If you look at the total installed base of 28 000 mining trucks around the world, the emission from those trucks is equivalent to the entire emissions from a country such as New Zealand or Finland.
"If you decarbonise those 28 000 trucks that are in the hands of open pit mining companies around the world, you are roughly removing an impact of 150-million cars off the roads," said Bow.
Nel Hydrogen Electrolyser has installed more than 3 500 electrolysers globally and supplies both alkaline and proton exchange membrane (PEM) electrolysers as well as hydrogen fuelling stations.
Editor's note: PEM electrolysers have catalysts that contain platinum group metals (PGMs). The cathode of a PEM electrolyser contains platinum and the anode iridium, which is a PGM.