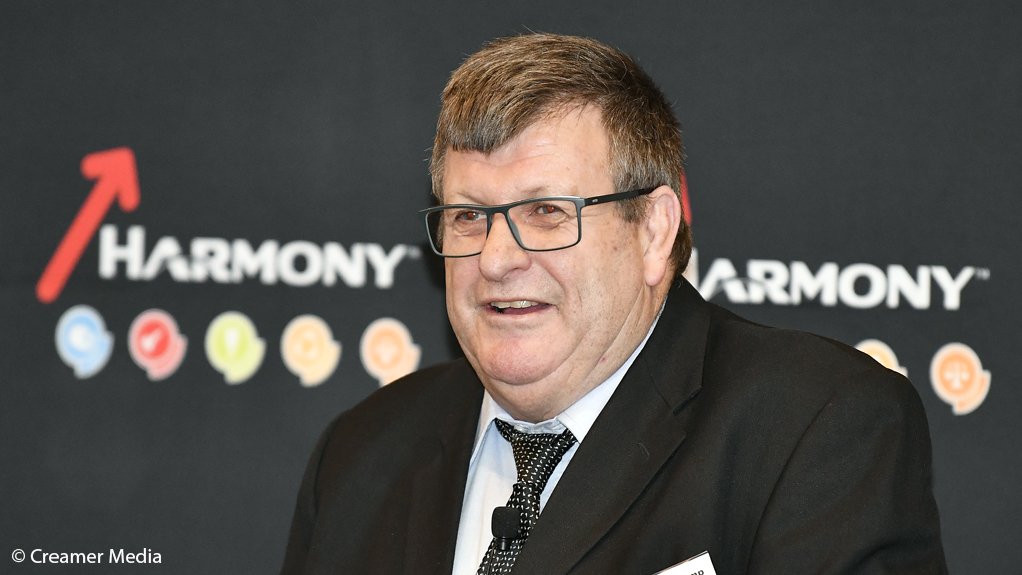 Photo by Creamer Media
The net profit of gold mining company Harmony Gold soared by 336% to R5.6-billion in the six months to the end of December.
The Johannesburg- and New York-listed company, headed by CEO Peter Steenkamp, has added quality ounces to its portfolio, which has been derisked.
"Harmony is no longer a marginal gold producer, but an emerging mining specialist with a diversified portfolio," said Steenkamp in a Stock Exchange News Services announcement.
Revenue increased by 39% to R21.6-billion from R15.5-billion in the corresponding period of 2019.
The company reported a 69% increase in operating free cash flow margin to 22% from 13% and a 65% increase in production profit to R6.8-billion.
Net debt to earnings is at a low 0.1 times and earnings a share increased by 288% to 966c a share.
Headline earnings a share increased by 211% to 775c a share.
An interim dividend of 110c a share was declared compared with zero dividend in the corresponding period of 2019.
Steenkamp said the performance achieved in the first half of financial year 2021 substantiated the company's growth strategy set out at the beginning of 2016.
Through acquisitions, the company had successfully added quality ounces to its portfolio. "We're also seeing a significant improvement in our overall grade and cash flow," he added.
Harmony Gold said last month that it is on track to meeting its full-year production guidance of between 1.26-million and 1.3-million ounces of gold after having produced 745 347 oz in the six months ended December 31, 2020.
The higher gold production was as a result of the integration of the Mponeng and Mine Waste Solutions assets, as well as the effective measures adopted in preventing and mitigating the impact of Covid-19 and disciplined mining.