With its latest product developments from the high-efficiency portfolio, NORD DRIVESYSTEMS once again demonstrates its competence and innovative strength in mechanical and electronic drive technology. This is what the managing partners Jutta Humbert and Ullrich Küchenmeister say.
NORD-Managing-Partners.jpg: Competence and innovative strength in drive technology: Jutta Humbert and Ullrich Küchenmeister, Managing partners of NORD DRIVESYSTEMS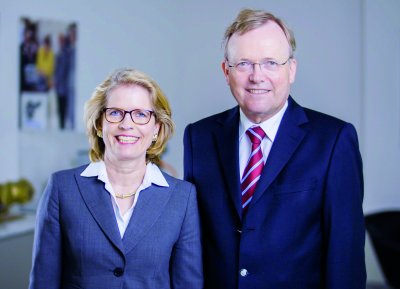 NORD DRIVESYSTEMS
"We focus on becoming better and better, and developing innovative drive solutions for more than 100 branches of industry. It takes courage to break new ground and to challenge the status quo. We have the courage because we are listening to our customers' needs and wants, and transform them into sustainable products and concepts. With 48 companies in 36 countries worldwide, we are close to our customers. We on the management board and each of our more than 4,000 employees worldwide are very proud of our truly revolutionary DuoDrive geared motor.
This heralds a new era of drive technology! The patented new DuoDrive geared motor has an efficiency of up to 92% and is thus one of the most efficient geared motors in its power class. This was achieved by integrating our IE5+ synchronous motor into a single-stage helical
gear unit – a completely new approach in geared motor design. With our IE5+ synchronous motor, we have already been able to significantly reduce losses compared to the current IE4 series. DuoDrive goes one step further and sets new standards with regard to power density, installation space and version reduction. Our
new high-efficiency portfolio is supplemented by the decentralised NORDAC ON frequency inverter. With its
integrated Ethernet interface and its very compact design, it provides a highly economic plug-and-play
solution for IoT environments. For more than 55 years, we have been meeting highest quality standards with
our expertise, experience and high depth of production. All quality-determining components are produced in
our own factories and we are currently operating eight production locations with cutting-edge technology. In our technology centre near Hamburg, we are developing the future of drive technology – worldwide." Jutta Humbert and Ullrich Küchenmeister, Managing partners GETRIEBEBAU NORD GmbH & Co.KG