The border between the United States and Canada is currently open for vaccinated travelers—but it may soon be closed to trainloads of American coal that pass through Canadian export terminals on their way to overseas markets.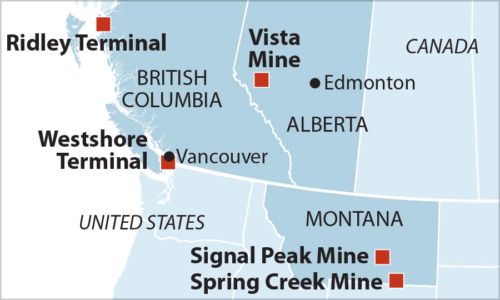 In a late August announcement that drew little attention outside Canada, the governing Liberal Party pledged to ban all thermal coal exports from the country—whether the coal was mined in Canada or not.
The policy would extend the country's existing efforts to phase out thermal coal:  Canada has already halted approvals for new thermal coal mines and pledged to phase out coal-fired power by 2030. The export ban would be a major climate boon.
The export ban would be a major climate boon
All told, a coal export ban could lead to roughly 13 million tons of thermal coal taken off the Pacific Rim export market, with the majority from Montana mines. For every ton of thermal coal not exported from Canada, long-term global coal consumption likely drops somewhere between 0.2 and 0.6 million tons due to market effects (less seaborne coal means slightly higher coal prices and slightly lower consumption). Doing the math—a ton of Montana coal releases about 2 tons of carbon dioxide, and cars release 4.6 tons of CO2 annually—Canada's coal export ban would have the same climate impact as permanently removing between 1 million and 3 million cars from the road.
Despite the outsized benefits, the policy would have relatively modest (though locally concentrated) impacts on Canadian jobs. Thermal coal is primarily exported through just two export facilities: Ridley Terminals, just south of the Alaska border, and Westshore Terminals, about a mile north of the Washington border. Canada has only one export-oriented thermal coal mine, the Vista coal mine at the foot of the Rocky Mountains in Alberta.
For most of the past decade, Ridley Terminals handled between 2 million and 3 million metric tons of thermal coal annually, although thermal exports boomed to 5.2 million tons in 2020, largely due to the opening of Vista.
Some 90 percent of Canadians have reservations about expanding coal mining
But Vista has struggled both financially and operationally. The mine temporarily shut down in February due to an engineering error. Its mining waste system had failed and the company couldn't obtain a permit to expand its tailings ponds. In April, the mine's parent company, Coalspur, found itself overwhelmed by debts, admitting that it was "insolvent" and that it urgently required bankruptcy protection. Meanwhile, Coalspur and Ridley sparred over shipping costs, and the Vista mine eventually shifted all of its shipments south to Westshore. Amid the turmoil, thermal coal exports through Ridley have collapsed to almost nothing, even as shipments of metallurgical coal and other commodities through the terminal have remained strong.
Despite Vista's shift to Westshore, the southern terminal has been angling away from thermal coal. Jim Pattison, the car salesman-turned-billionaire who controls Westshore, wants to transition its operations away from thermal coal and into potash "as rapidly as we can," and the terminal has already signed an export deal with a new potash mine in Saskatchewan. Over the past decade, Westshore has shipped more than twice as much metallurgical coal as thermal coal, and the vast majority of its thermal coal shipments originated from U.S. mines, particularly the Spring Creek and Signal Peak mines in Montana. As a result, Westshore's shift from U.S. thermal coal to Canadian potash will likely be a net boon for Canada's mining sector.
There's reason to believe that ending thermal coal exports would have broad political support. Canada's New Democratic Party is also on record as being "committed to ensuring that we end the export of thermal coal." Even in coal-rich Alberta, roughly 90 percent of Canadians have reservations about expanding coal mining. A ban on thermal coal exports through or from Canada is a sign that even as prices for the mineral soar, trainloads of thermal coal are likely to be physically and metaphorically stuck at the station.