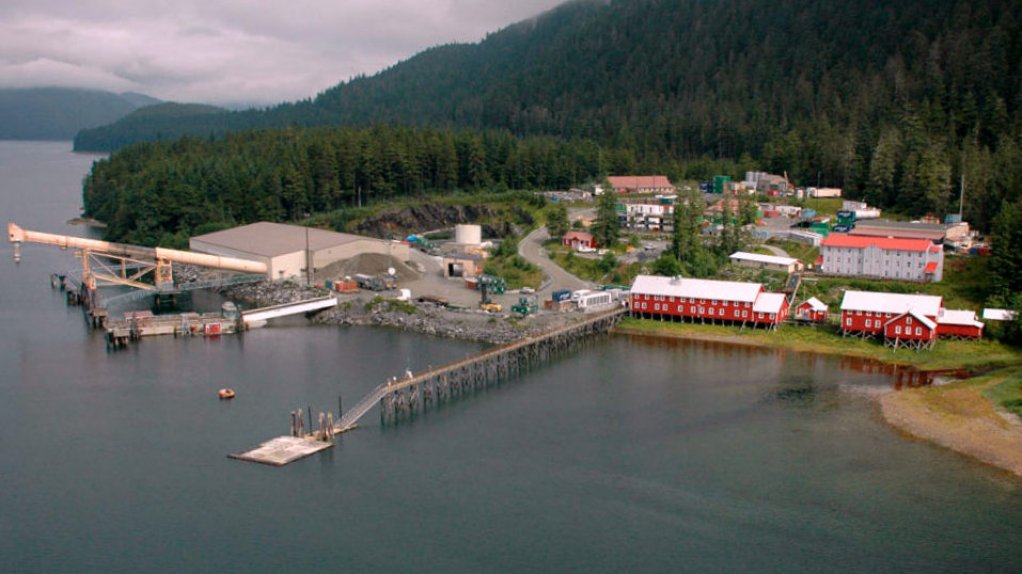 Greens Creek, Alaska
Precious metals miner Hecla has lowered its 2021 silver guidance, reflecting lower third-quarter production because of staff shortages at the Greens Creek mine, in Alaska.
Greens Creek's silver production fell by about 30% to 1.84-million ounces and gold output reduced by 27% to 9 734 oz, owing to manpower scheduling issues as a result of Covid-19 and increased competition for labour.
During the quarter, Hecla adjusted the mining sequence at Greens Creek to make best use of the available working shifts, with its focus on zones near to the portal. These zones had lower silver grades, COO Lauren Roberts explained on Thursday.
CEO Phil Baker added that Greens Creek had higher-than-normal turnover in certain job classifications in the third quarter, as the almost fully vaccinated workforce at the fly-in, fly-out operation was able to work from "just about anywhere".  With skilled miners in high demand owing to elevated metal prices, it took longer to replace employees with fully vaccinated workers, he said in a conference call.
"We have made changes to the crew schedule, and we continue to recruit to ensure full staffing. We see this as a temporary issue, which does not impact on the long-term value of production of the world-class Greens Creek mine," said Baker.
However, Hecla has lowered its short-term guidance and Greens Creek is now forecast to produce between 9.2-million and 9.5-million ounces, from a previous target of 9.5-million to 10.2-million. This reduced the group's silver guidance to between 12.6-million and 13.3-million.
The silver production guidance for Lucky Friday mine, in Idaho, remains unchanged at 3.4-million to 3.8-million ounces. Lucky Friday produced 0.8-million ounces of silver in the third quarter, an increase of 31% year-on-year.
Hecla's gold production guidance increased slightly to between 193 000 oz and 201 000 oz, from between 191 000 oz and 198 000 oz previously, owing to improvements at Casa Berardi, in Quebec. The operation achieved record third-quarter throughput of nearly 400 000 t, as the mill improvements delivered 13% higher gold production. Casa Berardi produced 29 722 oz of gold.
Estimated cost of sales for 2021 are maintained at $222-million and cash cost and all-in sustaining costs, each per silver ounce, are also unchanged at ($1.00) to $1.00 and $3.25 to $4.00, respectively.