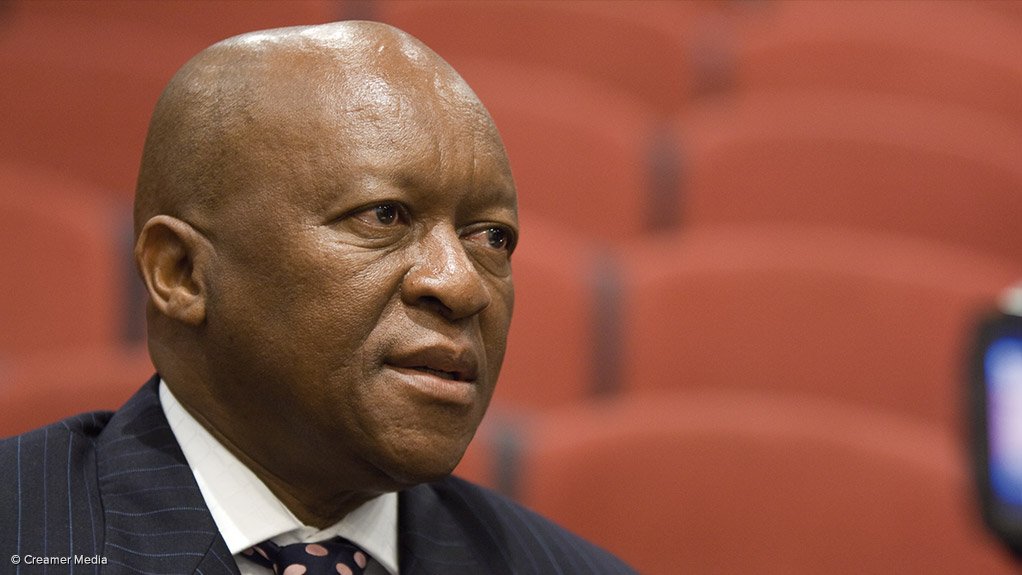 CEO Steve Phiri
Platinum group metals company Royal Bafokeng Platinum (RBPlat) delivered record production and earnings in the 12 months ended December 31.
The RBPlat board has declared a gross cash final dividend of 535c a share, equating to R1.5-billion. This is in addition to the interim dividend of R1.5-billion, declared in August 2021, bringing total capital returns for the year to R3.5-billion.

The JSE-listed company, headed by CEO Steve Phiri, increased its earnings before interest, taxes, depreciation and amortisation (Ebitda) by 28% to a best-ever R8.5-billion on 22%-higher revenue of R16.4-billion. The Ebitda margin rose 51.9% from 49.7% in the previous comparative period.
Through its social and labour plans, its social investment exceeded R169-million and discretionary procurement from historically disadvantaged businesses rose by 19.7% to R4.8-billion.

Net cash, calculated as cash and cash equivalents, less interest-bearing borrowings, amounted to R4.9-billion, a 198.1% improvement on the 2020 comparative period.
Group capital expenditure (capex) for 2022 is forecast to be R2.3-billion with Styldrift replacement capital at R0.7-billion, the Maseve plant upgrade and the tailings storage facility upgrades R0.5-billion and the Styldrift expansion project auxiliary works at R0.2-billion being the main drivers. Stay-in-business capex is expected to be between 10% and 11% of operating expenditure.
Total tonnes hoisted increased by 12.1% to 4 639 000 t as volumes increased at Bafokeng Rasimone platinum mine (BRPM) and Styldrift. BRPM tonnes hoisted increased by 11.9% to 2 434 000 t, and Styldrift tonnes hoisted increased by 12.2% to 2 205 000 t.
Total tonnes milled increased by 16.0% to 4 628 000 t. Merensky tonnes milled increased by 7.9% to 3 546 000 t, as Styldrift continues to ramp up. Upper group two (UG2) reef tonnes milled increased by 53.7% to 1 082 000 t, in line with increased UG2 volumes from BRPM North and South shafts.
Overall built-up head grade decreased by 1.8% to 3.86 g/t four element (4E), with built-up head grades reducing by 1.5% at Styldrift and 2.3% at BRPM, respectively.
The reduction in head grade was attributable to higher on-reef dilutions experienced on Merensky mining horizons at both BRPM and Styldrift, as well as the increased contribution of lower grade South shaft UG2 ore, to the overall ore mix.
Improved volumes combined with the lower recovery yielded a 11.5% and 10.7% increase in 4E and platinum group metals in concentrate, respectively. The 4E metals in concentrate amounted to 467 000 oz and platinum in concentrate equated to 301 000 oz.
Production guidance for 2022, subject to any unforeseen operational disruptions, is forecast to increase to between 4.65-million tonnes and 4.90-million tonnes at a 4E built-up head grade of 3.90 g/t, yielding between 485 000 oz and 505 000 oz 4E metals in concentrate. Group cash unit costs are forecast between R16 500 and R17 500 a 4E ounce.
Regarding safety, regrettably one fatality occurred at BRPM's North shaft, a 47.4% deterioration was experienced in lost time injury frequency rate and the total injury frequency rate worsened by 26.1%. Eighty-three percent of employees, including contractors, were fully vaccinated by year-end.