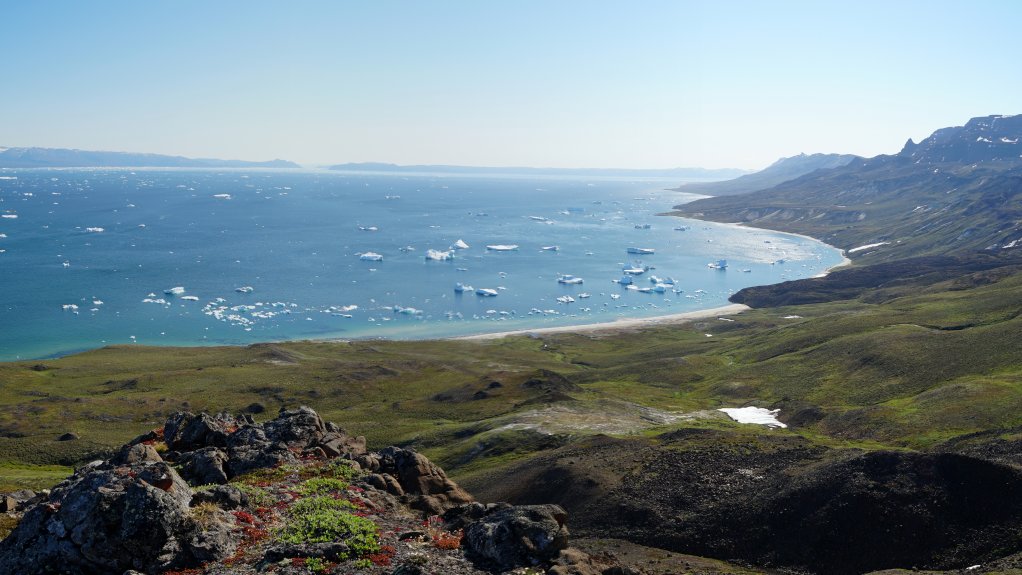 Greenland has become the new front for critical metals exploration.
Aim- and FSE-listed Bluejay Mining on Monday announced that it planned to demerge and separately list Disko Exploration, which holds several Greenland assets, including a project that is in a joint venture (JV) with a company backed by billionaires Jeff Bezos and Bill Gates.
The proposed demerger will provide greater development and funding flexibility for both Disko and Bluejay, which will hold on to the Dundas mineral sands project, in Greenland, as well as its Finnish assets.

Disko owns 49% of Disko-Nuussuaq nickel/copper/cobalt/platinum group elements project, which is in a JV agreement with KoBold Metals to execute an extensive exploration programme in 2022 for battery metals. Its other assets are Kangerluarsuk, a lead/zinc/silver project and Thunderstone, a gold/base metal and rare earth element project.
Disko will aim to raise funds to contribute proportionately to the rapid development of the Disko-Nuussuaq JV with Kobold Metals.

Bluejay said it had engaged advisers in relation to the listing, which would be on a London-based stock exchange.
Shareholders will have to approve the demerge. Should that be the case, Bluejay shareholders will receive new shares in Disko proportionate to their shareholding through a distributed capital reduction.
"We are currently witnessing increased global demand and high prices for both battery and critical metals. Disko and Dundas are perfectly positioned to capitalise on increased investor interest," said Bluejay in a statement.
A spin-out of Disko would maximise shareholder value during this time of rising commodity prices, the company noted.
Analysts at SP Angel said that the proposed separate listing of Disko Exploration was in response to interest in base or battery metals exploration in Greenland.
"Certain strategic investors appear to be keen to back new exploration in the region for its prospectivity and potential scale," said SP Angel.
The organisation noted that Greenland appeared to have become a new front for critical metals exploration. "We believe the Greenland government is supportive of mineral exploration and development for all metals with the exception of uranium and any other radioactive materials.