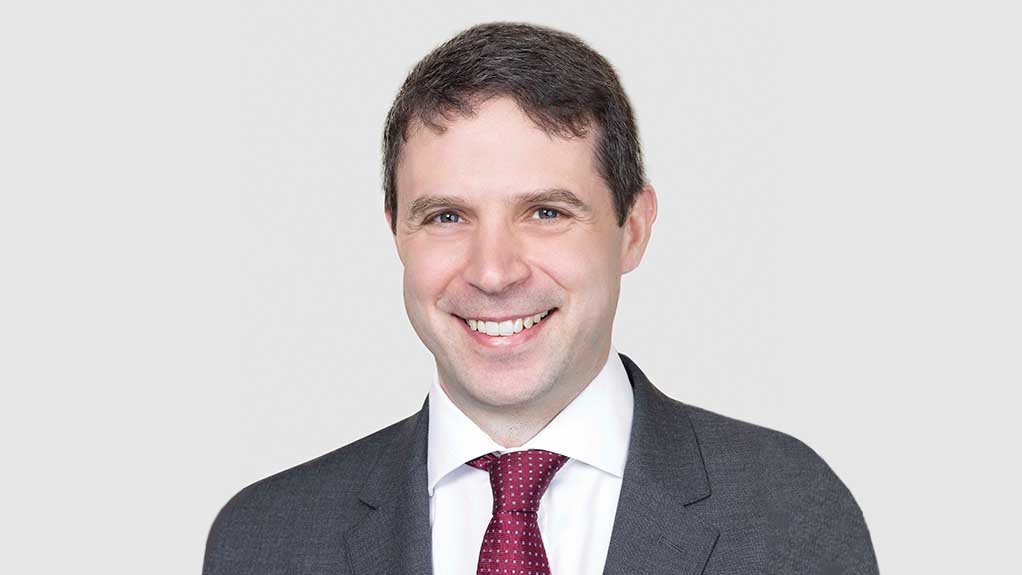 WGC CFO Terry Heymann
Mining companies are developing and deploying strategies to reduce climate-related risks in the locations where mines are situated, and the ability for gold mines to self-generate power on a practical scale from solar plants is helping to create a viable source of skills and infrastructure that will benefit other sectors, says market development organisation World Gold Council (WGC) CFO Terry Heymann.
"We have seen this in several locations across Africa and beyond. In seeking to decarbonise their own operations, many WGC members have been first movers in bringing clean energy to countries and locations where it would otherwise not have been present or affordable. This is a trend that will continue to grow," he states.
Further, a flourishing local renewable energy sector invariably leads to job growth – often high-quality jobs encompassing transferrable skills suitable for the modern economy.
"However, the challenge of decoupling greenhouse-gas emissions from economic growth should not be underestimated. It requires us to systemically and structurally change the sources of power that have underpinned the global economy since the dawn of the Industrial Revolution," he warns.
The need to change power sources and systems, while avoiding economic deprivation, has particular relevance for countries across Africa, including South Africa.
"Laying the groundwork and building new energy infrastructure will require greater collaboration with local governments, stakeholders and communities. It will also require greater collaboration across sectors. Addressing these challenges are high priorities for the gold mining sector," emphasises Heymann.
Gold mining multinational Gold Fields, for example, has mines in South Africa and Australia that are embracing renewables. Significantly, the company is committed to growing production, while reducing total emissions.
The miner's South Deep mine, in South Africa, boats a 50 MW solar photovoltaic (PV) plant – the 105 ha Khanyisa solar plant – which was commissioned in October 2022.
The plant is capable of generating 103 GWh/y, while the mine's overall electricity demand is about 494 GWh/y. The plant, therefore, reduces the mine's reliance on State-owned power utility Eskom's grid, while also reducing energy costs and lowering carbon emissions.
Mining Weekly in December 2022 quoted interim CEO Martin Preece as stating that solar PV presents great returns and provides business continuity.
He added that South Deep's energy teams were assessing where the electricity generated by the solar plant can be most effectively integrated to ensure that none goes to waste. To that end, Gold Fields was assessing the feasibility of putting certain constantly operated and consistently power-intensive items of equipment – such as ventilation fans, refrigeration plants, pumps and compressors – on to solar power.
Preece also revealed that South Deep was considering introducing wind turbines after preliminary tests indicated the potential to exploit a wind resource prevalent in a specific region of the mine lease area.
Beyond Gold Fields, other gold mining companies operating in Africa are also being similarly ambitious, including IAMGOLD, in Burkina Faso; Endeavour Mining in, Côte d'Ivoire; and Resolute Mining, in Senegal, Heymann says.
"In 2020, [gold and copper mining multinational] Barrick integrated battery technology into the Kibali power grid in the Democratic Republic of Congo to enhance low-carbon electricity provision from the mine's three hydropower stations. The development of these stations has also contributed to greater local power-generation capacity, with additional benefits to neighbouring regions," he highlights.
The world's ability to maintain economic resilience and support inclusive socioeconomic development and environmental stability looks fragile, Heymann adds.
"Our most urgent task is to rapidly decarbonise the global economy and concurrently, as the physical impacts of a changing climate start to have more widespread and severe consequences, we need to build greater resilience," he stresses.
Additionally, the gold mining industry's recognition of its need to operate in a transparent and trusted manner, and to demonstrate high standards of responsible and sustainable business practice, has underpinned its ability to take ambitious steps to ensure it can contribute to social and environmental progress, including decarbonisation and local resilience, he notes.
"Change is happening, but we need to continue to accelerate and expand gold mining's transformation, particularly in how it generates and consumes power, and how it engages with communities and stakeholders as it strives to adapt to escalating physical risks from an increasingly volatile climate," he emphasises.
Further, to achieve its ambition of contributing to wider positive outcomes beyond gold sales and the mine gate, the industry needs to actively meet environmental, social and governance (ESG) demands in line with broader community, investor and societal expectations, says Heymann.
"Given the strategic role that gold mining plays in the economies of many developing nations, retaining and building the appropriate 'social license to operate' is critical to the gold mining sector itself and also to the stability of many local economies," he adds.
Meanwhile, all World Gold Council members must adhere to its Responsible Gold Mining Principles that define clear expectations for what responsible gold mining looks like, and how operators can demonstrate their high standards of performance on a wide range of ESG factors.